2004 SOUTH OLDHAM LITTLE LEAGUE
<![if !vml]>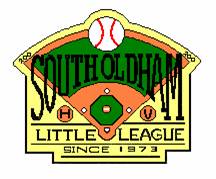 <![endif]>
2005
SOUTH OLDHAM
LITTLE LEAGUE
TEE BALL
SOFTBALL
BASEBALL
SOUTH OLDHAM LITTLE LEAGUE
BOARD OF DIRECTORS
The South Oldham Little League Board of Directors normally meets once a month. The meetings are open to anyone wishing to attend. In general, meetings are held the second Sunday of each month at . Location to be determined.
The rules in this book can be changed only by a majority vote at a meeting of the Board of Directors, a quorum being present. The Board of Directors will handle any situation not specifically covered by the rules in this book on its merits.
If there are any questions, please contact the President or any board member.
Board Members
| | | |
| --- | --- | --- |
| President | Mike Montgomery | 241-6261 |
| Secretary | Sherry Jacob | |
| Treasurer | Veronica Benson | 241-1543 |
| VP Baseball | Brent Morgan | 426-0708 |
| Dir. of Safety | Steve Reeves | 243-9546 |
| Manager - Field Equipment | Scott Alsup | 243-3353 |
| Dir. of Field Maintenance | Bill Reynolds | 241-6270 |
| Dir. of Umpires | Craig Cameron | 228-7081 |
| Dir. of Concessions | Sheryl Wotring | 241-7004 |
| Dir. of Uniforms | Jackie Conard | 292-2285 |
| Public Relations | Mike Montgomery | 241-6261 |
| Tournament Director | Roger Frantz | 243-1975 |
| Coach Coordinator | John Karlen | 241-6465 |
| Player Agent - Junior | Bud Merrill | 241-7004 |
| Player Agent - Majors | Steve Van Heusen | 243-1136 |
| Player Agent - Senior/Minor | Don Gilson | |
| Player Agent - Machine Pitch | Stacy Coartney | 243-9149 |
| Player Agent - Rookie Machine | Jim Benson | 241-1543 |
| Player Agent T-Ball | Scott Alsup | 243-3353 |
| Player Agent Softball | Roger Frantz | 241-5200 |
| Webmaster | Stacy Coartney | 243-9149 |
| Fund Raising | Daryl Baer | 243-3229 |
| Volunteer Coordinator | Jim Derringer | 962-2329 |
| | | |
| Members at Large | Patty Anderson | 241-7156 |
| | Ron Anderson | 241-7156 |
| | Mike DeLeon | 412-5514 |
| | Dewey Wotring | 241-7004 |
| | Fess Whitaker | 243-9546 |
RULES

South Oldham Little League is a member of the National Little League Organization. All rules of play and conduct are governed by the rules published by Little League, unless otherwise stated in local rules for South Oldham Little League.

These rules have been drawn up in accordance with the purposes and aims of South Oldham Little League as set forth in its charter, and have as their basis the development of the ideals of good sportsmanship and fair play. There has never been a set of rules that are completely without so-called "loopholes". When it is apparent that an individual or team is basing a protest or defense on merely a minor technical point or loophole which is contrary to accepted practice, fair play or good sportsmanship, the spirit of the rule will be considered as well as the letter of the rule.

For any violation of the rules in this booklet, or for any other unruly or unsportsman-like conduct, the President or any board member has the authority to impose a suspension of one week or until the next meeting of the Board of Directors, whichever is less, provided that the individual imposing the suspension is not involved in the dispute as a manager, coach, or umpire. Suspensions for longer than one week can be imposed only by a majority vote of the Board of Directors. The Rules Committee will determine an appropriate penalty for rules violations if no penalty is specified within these rules.

SPORTSMANSHIP

South Oldham Little League is organized to help provide enjoyable recreation for all concerned. Managers, coaches, players, umpires and spectators play an important part in the results obtained. Profanity, equipment abuse, and other displays of poor sportsmanship will not be tolerated. Violations can result in ejection, game forfeiture and/or a personal suspension of up to one year.

1. No verbal abuse or harassment will be directed to an umpire, opposing team, or player. An effort must be made by the managers to control their players, coaches, and fans.

2. All disputes must be handled between the manager and the umpire in a quick, courteous, and orderly manner. Only one coach or manager from each team will be allowed to converse with the umpire at any one time. Under no circumstances shall a manager allow any players to enter into any dispute.

3. Unnecessary physical contact will not be allowed in any league. As a minimum, any player who is obviously engaging in unnecessary contact will be called out. At the umpire's discretion, based upon the severity of the situation, the player may be ejected from the game.

4. The umpire, league chairman, general manager, or any board member is empowered to eject a manager, coach, player, or spectator for unruly or unsportsman-like conduct, provided that the individual imposing the ejection is not involved in the game as a manager, coach, or parent of a player.

SPORTSMANSHIP (cont'd)

Ejection from a game of any manager, coach or player will automatically carry a penalty of suspension of such participant from the next official game played.

The second ejection or suspension of any manager, coach, or player will result in automatic suspension of such participant until the next meeting of the Board of Directors, at which time the Board will decide on any additional penalty.

An ejected individual must remove himself immediately from whatever area is stipulated by the individual imposing the ejection. Failure to do so will result in a forfeiture of the game and/or forced compliance by the Police. If it becomes necessary to call the police in order to enforce the ejection of an individual, that individual will be automatically suspended for the remainder of the season, including post-season tournament play.

General League Rules

1. All players who did not play in the South Oldham Little League program the previous year must show proof of age at the time of registration.

2. Player Selection System:

a. Unless requested otherwise, a player returning to the Major or Junior divisions will be automatically assigned to the team on which he played the previous year. If reassignment is requested, the player will be assigned to the player draft. If the player is drafted by the same team on which he played the previous year, he must be returned to the draft and drafted by another team. Brothers or sisters will be assigned to the same team unless requested otherwise.

b. All players other than those covered in Rule 2a, except Tee Ball shall be subject to a tryout. These players will then be placed in the draft pool for the appropriate division.

3. Prior to team assignment, a player may designate one team for which he/she does not wish to play. If drafted by the designated team, the player must be returned to the draft.

a. Any new players for all divisions shall be required to attend a tryout.

b. After the children or grand children of the managers and official coaches have been assigned to their teams, all other players will be assigned through a draft by the team managers.

c. This draft shall be prepared by the President and reviewed by the Vice President prior to the league meeting. The draft shall be prepared in such a way as to maximize the balance of the ages and skill levels of players on all teams. All managers must attend tryouts to rate players' skill levels.

d. All managers shall be given reasonable notice of the date and time of the draft and tryouts.

General League Rules (cont'd)

4. No coach or parent shall move from one team to another to become a coach in the same age group, regardless of reason, and have his child automatically reassigned to the new team. If a change is desired, the player will return to the player draft.

5. Each team will be required to furnish volunteer workers for the concession stands at least one time during the season. Any team without the required number of workers in the concession stands at all times on the scheduled date will require the manager to work.

6. A player arriving late shall be added to the bottom of the batting order.

7. Time Limits: (revised 5/4/05)

In all divisions, all innings started must be completed. Tie games may only go to extra innings if the game has not passed the "No New Inning" time limit. Extra innings may be played in Senior-Minor, Major, and Junior Division Baseball only.

8. Maximum Number of Players Per Team:

Junior Baseball – 13 Senior Softball – 13 Machine Pitch-- 13

Major Baseball – 13 Major Softball – 13 Rookie M.P. -- 13

Minor Baseball – 13 Minor Softball – 13 Tee Ball – 14

9. Adding a Team: Will be done in accordance with Little League Rules.




General League Rules (cont'd)

10. Rescheduling Games:

If due to a school function or church function for ceremonial purposes only that attendance is required and a team is unable to field a minimum number of players, the game will be rescheduled.

The rescheduling manager must prove to the division Player Agent the function(s) that would otherwise cause their team to forfeit. All games must be rescheduled within 3 days.

A minimum 3-day notice is required to reschedule a game to avoid a forfeit caused by one or more excused events. Rescheduling must be done with the Player Agent's approval.

The head of umpires reserves the right to a 7-day advance notice of the rescheduled game to guarantee umpires for the game. The Player Agent shall reschedule this game.

11. Tournament teams:

Attendance at tournament team practices is required. Players are required to attend a minimum of 50% of all practices. The Manager, Player Agent and Vice President must approve any absence or exception. Missing practice could result in dismissal or reduced playing time for the player.

Maximum number of players on a tournament team will be 12.

Any team playing in a tournament not sanctioned by Little League Baseball does not represent, is not insured and is in no way associated with South Oldham Little League.

All tournament teams will be selected as outlined in the rules for each division.

All Tournament Team Managers are subject to approval by the Board of Directors.

If no manager is available for a particular Tournament Team a member of the Board of Directors will be selected.

12. Division Alignment Baseball for the current season:

All players league age 5 will be placed in the Tee-Ball Division.

All players league age 6 will be placed in the Tee Ball or Rookie Machine Pitch Division.

All players league age 7 & 8 will be placed in the Rookie Machine Pitch or Machine Pitch Division.

General League Rules (cont'd)

All players league age 9 & 10 will play Minor Division.

All players league age 11 & 12 will play in the Major Division.

All players league age 13, 14, 15, & 16 will be placed in the Junior Division.

Player agents will make recommendations to Board for players needing to be placed in divisions other than their age group.

13. Division Alignment Softball for the current season:

All players league age 7, 8, & 9 will be placed in the Minor Division.

All players league age 10, 11, & 12 will be placed in the Major Division.

All players league age 13, 14, 15, & 16 will be placed in the Senior Division.

Player agents will make recommendations to the Board for players needing to be placed in divisions other than their age group.

14. Appointment of Regular Season Managers and Coaches:

If more manager applicants are available than teams, the applicant shall present their qualifications before the appropriate committee for recommendation to the Board of Directors. The President will appoint and the Board will approve the appointment without any discussion of individual managers and coaches for each team. The members of the board may examine the applications submitted by the individual before voting. Only those managers and coaches specifically approved by the board of directors and whose names appear on the official rosters for the team may be in the dugout during the games.

15. Scorekeepers:

Each team for each game will provide one qualified scorekeeper, for a total of two people.

One of the two persons elected shall also run the scoreboard.

If any team does not have a scorekeeper, then the manager of that team will be required to keep score in the score box.

Scorekeeper may not call attention to batting order errors or affect the play of the game in any way EXCEPT to call to the attention of the home plate umpire any situation that can avoid a protestable situation from occurring: i.e. Ineligible pitchers, ineligible players entering the game, etc.

General League Rules (cont'd)

16. Conduct of Managers, Parents and Spectators:

Before a manager may go on the field, time must be called. If a manager goes on the field before time is called, they will be warned the first time. The second offense will result in ejection from the game. At no time will managers cross the foul lines except to tend to an injured player. The only exception will be Machine Pitch Baseball, Minor Softball and Tee-Ball.

While it is the prerogative of baseball fans at professional games to voice loud or uncomplimentary opinions of umpires, managers or players, this practice is not condoned at Little League games. It is always in order to applaud a good player or outstanding feat of athletic skill. However, parent must accept that umpires, coaches and others identified with the game are volunteers and should not be subject to criticism during ballgames, especially by those unwilling to lend a hand.

The manager is directly responsible for the actions of the parents and spectators of their team. It is the manager's responsibility to keep this policy in check at all times. If a parent or spectator is out of line, the umpire will first go to the manager and issue a warning. If the problem continues to exist, the manager, as they are responsible for the parent, will be ejected from the game. Ejection from a game means that the offending party must leave Little League premises for

the remainder of the current game as well as the next regularly scheduled game.

17. Additional Rules:

There will be no smoking or chewing of tobacco by coaches, managers or umpires during the game or near the field while the game is in play.

The Home Team will be responsible for lining the fields and placing the bases on the field prior to the start of the game if it has not already been done.

Each team will be responsible for picking up trash in the dugout and on their respective side of the field bleacher area after each game. THIS IS ULTIMATELY THE RESPONSIBILITY OF THE MANAGER TO MAKE SURE THIS HAPPENS.

The Baseball Committees will act as monitors for each division of the league and report any issues or concerns to the league President.

A courtesy runner may be used for the catcher only when there are (2) two outs and the catcher is on base. The runner must be the batter who made the last out.

South Oldham Little League strongly suggests that for the safety of all players, each player has a parent or guardian present at all league functions.

Carpooling will not be a criteria for placing players on teams. (except Tee Ball).

All players will be required to play at least one year in Minor and two years in Machine Pitch. Example: (Cannot go directly from Tee ball to Minor).

Tee Ball Local Rules

1. A player will have 5 swings at the ball sitting on the tee to put the ball in play. No out will be assessed after the 5 swings, but their turn at bat will be over.

2. Everyone plays defense. A 6-player maximum will be located in the infield.

2 players in the pitcher area

1 player at 1st base

1 player at 2nd base

1 player at 3rd base

1 player at shortstop

The rest will be spread out in the outfield. No catcher!!!

3. Everyone will bat in every inning. Manager will determine batting order.

4. If ball is hit to the outfield, play halts when ball is thrown toward the infield and is inside the base lines.

5. Runners advance only one base on all balls hit to infield.

6. Bunts or half swings are not permitted.

7. In an attempt to stop a bat from being thrown, bats must be dropped in the batter's box. The batter's boxes will be enlarged just for this rule. The 1st time the bat is thrown, the batter gets a warning. The 2nd time, the batter will be called out.

8. 3 coaches are allowed on the field for both the offensive and defensive teams

Offense – Coaches will be in the coach's box at 1st and 3rd bases and a coach to help with the batters.

Defense – Can be anywhere as long as they do not interfere with play.

9. 4 and 5 yr. Olds – Must play Tee Ball

5 yr. Olds – After 1 year of Tee Ball may try out for Rookie Machine Pitch (must be approved by Baseball Committee).

10. Players playing more than one year of Tee Ball will stay on the same team.

Rookie Machine Pitch Local Rules

1. Coach or Asst. Coach feeds machine.

2. There is no stealing allowed.

3. Using a catcher is allowed, but not mandatory.

4. Runners may not advance on over-throws.

5. For the first half of the season, teams will bat through their order,

regardless of how many outs the opposing team records.

6. Standings will be kept the second half of the season for tournament

seeding only.

7. The maximum number of batters per inning will be equal to the number of players on the team with the most players. (i.e., if one team has 10 players and the other has 9, each team would bat 10
each inning).

8. Minimum players per game is 7 – Must take an out for each player

under 9. Game must finish with 7 players.

9. No infield fly rule.

10. Each coach may write his or her own rules for conduct or discipline. A copy must be given to player agent for baseball committee approval.

11. Lineups shall be turned in by each coach and shall include first initial, last name and number. Three copies will be required.

12. No player shall sit for more than 1 consecutive inning. All players shall bat, whether playing in field or not.

13. Each batter will be given 5 swings to put the ball in play. There are no strike-outs. After 5 swings the ball will be placed on a tee.

Machine Pitch Local Rules

1. Coach or Asst. Coach feeds machine.

2. Stealing starts from Game One.

3. No advancement on an over-throw of a stolen base.

4. Umpires will call game from field not behind the plate.

Machine Pitch Local Rules (cont'd)

5. Standings will be kept the second half of the season for tournament seeding only.

6. Maximum of 7 runs per inning.

7. Minimum players per game is 7 – Must take an out for each player under 9. Game must finish with 7 players.

8. No infield fly rule.

9. 2 stolen base for second base per inning (1 steal per batter and no double steals).

10. Unlimited stolen bases for third base per inning (1 steal per batter and no double steals).

11. Must play at least 2 years before moving up.

12. Each coach may write his or her own rules for conduct or discipline. A copy must be given to player agent for baseball committee approval.

13. Lineups shall be turned in by each coach and shall include first initial, last name and number. Three copies will be required.

14. No player shall sit for more that 2 innings. All players shall bat, whether playing in field or not.

15. Teams are limited to one stolen base per batter.

16. Coaches and head umpire must sign scorecard at end of each game.

17. Players in drafts will not be assigned to teams based on rides homes, and/or carpooling.

18. Asst. coaches' son is to be picked as that team's first pick. This will be done for only one assistant.

19. Coaches' son and brother option is automatically on the team.

20. five HITTABLE pitches. "Hittable" is determined by the umpire. New 2005

21. Umpires may adjust the machine at any time. New 2005

22. Tournament Team:

a. Coaches pick 4 or 5 kids per team to tryout.

b. Asst. & managers of All Stars will be voted on by league coaches.

c. There will be an A and B All Star team.

d. Top 12 players will be on A team – No coaches selections.

e. A 2 practice tryout will determine who is selected for the All Star teams. Players must attend at least one tryout practice.

f. There will be no player assignments to the team by coaches.




Minor Division Local Rules

1. Each player of league age must play a minimum of one year in senior minor. After one year, an individual may try out for major division, if given baseball committee approval.

2. Each coach shall select "x" number of kids from that team to attend All-Star practice. The number of players will be decided on at a later date based on the number of league teams.

3. Lineups shall be turned in by each coach and shall include first initial, last names and numbers. Three copies will be required.

4. Innings 1 through 4 shall have a 5 run limit. Innings 5, 6, and any extra innings shall have a 10 run limit, time permitting.

5. The top 12 players from the two All-Star practices/tryouts, as concluded by all coaches and player agent, will be the All-Star "A" team. There will be no player assignments to the team by coaches. Players must attend at least one tryout practice.

6. Records for the season will be kept. They will be used only for end of year tournament seeding and the next year's drafting order. Coaches and head umpire must sign the score book at conclusion of each game. Pre-game meetings will be held at home plate prior to each game to discuss any special instructions.

7. No player shall sit for more than 2 innings. All players shall bat whether playing in the field or not.

8. Game can be started with as few as 7 players, but must be finished with at least 7 players. For each player less than 9, one out shall be taken in every batting cycle.

9. A player cannot be called up to major division unless major team has less than 9 players. If called up, player must agree to move up. The call up would be for one game only.

10. The in-field fly rule will apply.

11. If a player has a brother coming into the league, the brother shall be automatically placed on that team, unless specifically requested otherwise by player and approved by baseball committee.

12. Coaches will not be able to designate an assistant coach prior to the season. team. New 2005

13. The manager's son will automatically be placed on that team. No draft pick needs to be used.

14. The All-Star coach will be selected by voting from all league coaches for managers interested in that position. Assistant coaches shall also be chosen from those interested who did not receive the manager's position.

15. Each coach may write his own rules of conduct and discipline. A copy must be given to the player agent for review and approval.

Minor Division Local Rules (cont'd)

16. There will be no car-pooling allowed for assigning players to any particular team.

17. Run rule- 15 runs after 4 innings (3 1/2 if home team is ahead) and 10 runs after 5 innings.

Major Division Local Rules

1. If there are more than 12 players on every team, then each team will play with 4 outfielders.

Discontinued for 2005.

2. You may start a game with 7 players however, if a player or players arrive after the game starts, they will be added to the end of the lineup. The game must finish with at least 7 players.

3. If a player has a brother coming into the league, the brother shall be automatically placed on that team, unless specifically requested by the player and approved by the baseball committee.

4. Individual team rules pertaining to conduct and discipline of the players, regarding starting and playing of players, are to be given to each player and player agent. Rules are subject to approval by baseball committee.

5. Players returning to league will remain on the team they were on the previous season. Players with particular concerns may re-enter the draft upon approval of the baseball committee.

6. The manager with the best record at midway point of season will be All-Star coach. If that coach is not interested in the position, it shall be awarded to the manager with the next best record.

7. All-Star players selected same as senior minor. There will be no coach selections for the team.

8. Coaches and head umpire must sign score book at end of each game.

9. After 4 innings (3 ½ if home team is ahead) 15 run rule applies, after 5 innings 10 run rule applies.

10. Manager's sons will automatically be placed on the manager's team, similar to a returning player.

11. Lineups shall be turned in prior to the game by each coach and shall include player's last name, first initial and number. Three copies will be required.

12. Drafting order for each year shall be based on standings of previous year (i.e. last selects first, etc.)

13. Coaches may freely substitute players at anytime for any player. Players must still bat at least once per game and play 6 outs in the field. New 2005

Minor Softball Local Rules

1. Coach or Asst. Coach feeds machine.

2. Stealing starts from Game One.

3. No advancement on an over-throw of a stolen base.

4. Umpires will call game from field not behind the plate.

5. Standings will be kept the second half of the season for tournament seeding only.

6. Maximum of 7 runs per inning.

7. Minimum players per game is 7 – Must take an out for each player under 9. Game must finish with 7 players.

8. No infield fly rule.

9. 2 stolen bases for second base per inning.

10. Must play at least 2 years before moving up.

11. Each coach may write his or her own rules for conduct or discipline. A copy must be given to player agent for baseball committee approval.

12. Lineups shall be turned in by each coach and shall include first initial, last name and number. Three copies will be required.

13. No player shall sit for more that 2 innings. All players shall bat, whether playing in field or not.

14. Drafting order for each year shall be based on standings of previous year (i.e. last selects first, etc.).

15. Teams are limited to one stolen base per batter.

16. Coaches and head umpire must sign scorecard at end of each game.

17. Players in drafts will not be assigned to teams based on rides homes, and/or carpooling.

18. Asst. coaches' son to be picked as that team's first pick. This will be done for only one assistant.

19. Coaches' son and brother option is automatically on the team.

Minor Softball Rules (cont'd)

20. Tournament Team:

g. Coaches pick 4 or 5 kids per team to tryout.

h. Asst. & managers of All Stars will be voted on by league coaches.

i. There will be an A and B All Star team.

j. Top 12 players will be on A team – No coaches selections.

k. A 2 practice tryout will determine who is selected for the All Star teams. Players must attend at least one tryout practice.

l. There will be no player assignments to the team by coaches.

Major Softball Local Rules

1. Each player of league age must play a minimum of one year in senior minor. After one year, an individual may try out for major division, if given baseball committee approval.

2. Each coach shall select an "x" number of kids from that team to attend All-Star practice. The number of players will be decided on at a later date based on the number of league teams.

3. Lineups shall be turned in by each coach and shall include first initial, last names and numbers. Three copies will be required.

4. Innings 1 through 4 shall have a 5 run limit. Innings 5, 6, and any extra innings shall have a 10 run limit, time permitting.

5. The top 12 players from the two All-Star practices/tryouts, as concluded by all coaches and player agent, will be the All-Star "A" team. There will be no player assignments to the team by coaches. Players must attend at least one tryout practice.

6. Records for the season will be kept. They will be used only for end of year tournament seeding and the next year's drafting order. Coaches and head umpire must sign the score book at conclusion of each game. Pre-game meetings will be held at home plate prior to each game to discuss any special instructions.

7. No player shall sit for more than 2 innings. All players shall bat whether playing in the field or not.

8. Game can be started with as few as 7 players, but must be finished with at least 7 players. For each player less than 9, one out shall be taken in every batting cycle.

9. A player cannot be called up to senior division unless major team has less than 9 players. If called up, player must agree to move up. The call up would be for one game only.

Major Softball Local Rules (cont'd)

10. The in-field fly rule will apply.

11. If a player has a brother coming into the league, the brother shall be automatically placed on that team, unless specifically requested otherwise by player and approved by baseball committee.

12. The assistant coach's son will be protected as that team's first pick. After that, the player may be drafted by any team. This will be done for only one assistant on each team.

13. The manager's son will automatically be placed on that team. No draft pick needs to used.

14. The All-Star coach will be selected by voting from all league coaches for managers interested in that position. Assistant coaches shall also be chosen from those interested who did not receive the manager's position.

15. Each coach may write his own rules of conduct and discipline. A copy must be given to the player agent for review and approval.

16. There will be no car-pooling allowed for assigning players to any particular team.

17. Run rule- 15 runs after 4 innings and 10 runs after 5 innings.

18. Drafting order for each year will be determined from standings for previous year (i.e. last selects first, etc.).

Senior Softball Local Rules

1. If there are more than 12 players on every team, then each team will play with 4 outfielders.

2. You may start a game with 7 players however, if a player or players arrive after the game starts, they will be added to the end of the lineup. The game must finish with at least 7 players.

3. All players have to bat at least once and play six outs. Outs played for substitutes shall be consecutive.

4. If a player has a brother coming into the league, the brother shall be automatically placed on that team, unless specifically requested by the player and approved by the baseball committee.

5. Individual team rules pertaining to conduct and discipline of the players, regarding starting and playing of players, are to be given to each player and player agent. Rules are subject to approval by baseball committee.

6. Players returning to league will remain on the team they were on the previous season. Players with particular concerns may re-enter the draft upon approval of the baseball committee.

Senior Softball Local Rules (cont'd)

7. The manager with the best record at midway point of season will be All-Star coach. If that coach is not interested in the position, it shall be awarded to the manager with the next best record.

8. All-Star players selected same as minor. There will be no coach selections for the team.

9. Coaches and head umpire must sign score book at end of each game.

10. After 4 innings (3 ½ for home team) 15 run rule applies, after 5 innings 10 run rule applies.

11. Manager's sons will automatically be placed on the manager's team, similar to a returning player.

12. Lineups shall be turned in prior to the game by each coach and shall include player's last name, first initial and number. Three copies will be required.

13. Drafting order for each year shall be based on standings of previous year (i.e. last selects first, etc.)

Junior Division Local Rules

1. If there are more than 12 players on every team, then each team will play with 4 outfielders.

Discontinued for 2005.

2. You may start a game with 7 players however, if a player or players arrive after the game starts, they will be added to the end of the lineup. The game must finish with at least 7 players.

3. All players have to bat at least once and play six outs. Outs played for substitutes shall be consecutive.

4. If a player has a brother coming into the league, the brother shall be automatically placed on that team, unless specifically requested by the player and approved by the baseball committee.

5. Individual team rules pertaining to conduct and discipline of the players, regarding starting and playing of players, are to be given to each player and player agent. Rules are subject to approval by baseball committee.

6. Players returning to league will remain on the team they were on the previous season. Players with particular concerns may re-enter the draft upon approval of the baseball committee.

7. The manager with the best record at midway point of season will be All-Star coach. If that coach is not interested in the position, it shall be awarded to the manager with the next best record.

8. All-Star players selected same as senior minor. There will be no coach selections for the team.

9. Coaches and head umpire must sign score book at end of each game.

Junior Division Local Rules (cont'd)

10. After 4 innings (3 ½ if home team is ahead) 15 run rule applies, after 5 innings 10 run rule applies.

11. Manager's sons will automatically be placed on the manager's team, similar to a returning player.

12. Lineups shall be turned in prior to the game by each coach and shall include player's last name, first initial and number. Three copies will be required.

13. Drafting order for each year shall be based on standings of previous year (i.e. last selects first, etc.)