9-10 Year Old Local "A"All-Stars
Head Coach: Basil Starski
District 2 Tournament - POOL PLAY at Peggy Baker Park
6/21 - South Oldham 10, Nelson County 6 - SOLL rallied late from a 6-4 deficit to win going away.
6/22 - South Oldham 12, North Oldham 2
6/23 - Valley Sports 8, South Oldham 5
6/24 - South Oldham "A" 16, South Oldham "B" 6 - The "A" team spotted the "B" team a 4-0 lead in the top of the first, but took control in the bottom half of the inning with a 7 run outburst that gave them the lead for good. Jax Mays had a solo home run for the winners, and the "A" team slammed eight extra base hits. Keegan Duncan went four-for-four with two singles and two doubles to lead the "A" team attack. Jacob Raque went two for three to lead the "B" team, including a three-run triple in the first inning
6/25 - South Oldham 32, Portland 5
South Oldham 9-10 "A" finishes 4-1 in pool play and advances to the District 2 single elimination tournament as the #2 seed. South will play at 4 pm on Saturday at SOLL vs. Nelson County, the #3 seed.
6/28 - DISTRICT 2 TOURNAMENT SEMI-FINALS: South Oldham 3, Nelson County 2 - Emma Leskody and Addison Skarski gave up 2 hits and no earned runs over 6 innings as Nelson County struck out in the bottom of the 6th with the tying run on second. Keegan Duncan was 2 for 3 which proved to be enough offense to carry South past Nelson into the finals.
6/29 - DISTRICT 2 TOURNAMENT CHAMPIONSHIP: South Oldham "A" 15, North Oldham 5 (4 innings) Samuel Campbell got the win throwing 75 pitches, also fielded his position well. Andrew Byers didn't allow a run to get the save. Aiden Skeeters, Drew Hobbs, Keegan Duncan, Jax Mays were all 3 for 3 with a walk.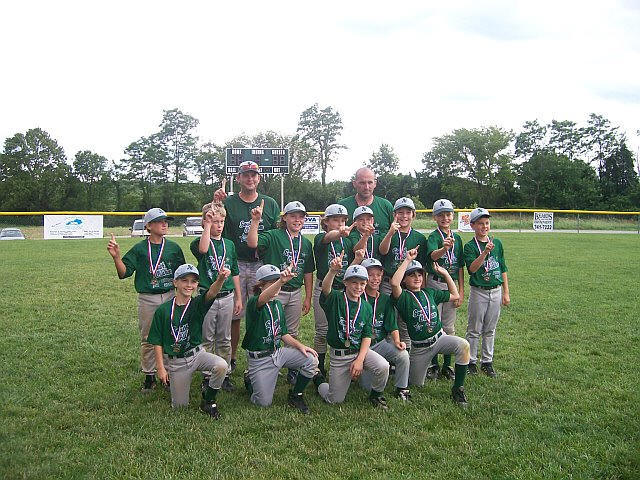 DA CHAMPS!