9 Year Old Local All-Stars
Head Coach: Aaron Beard
Assistant Coaches: Chuck Patton, Coy Lightfoot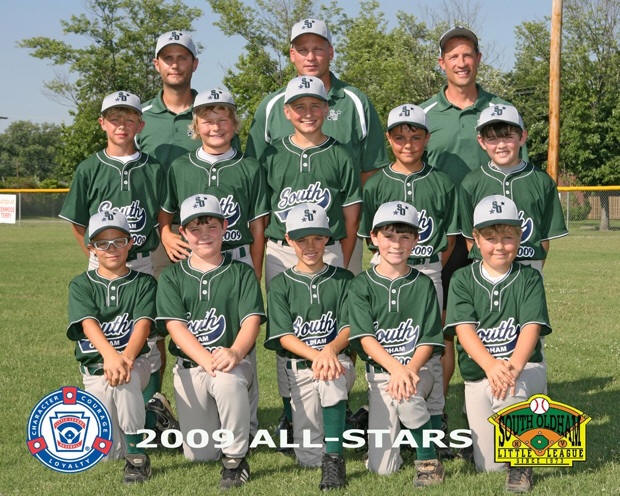 2009 9 Local Roster: Cameron Masterman, Matthew Roy, Chase Patton, Bryan Gazak, Chanler Lightfoot, Ike Whalen, Nicklaus Finneseth, Mason Beard, Parker Vicich, Trey Marksbury, Henry Sadlo, Kevin Lambe (Vicich & Lambe not pictured, above)
District 2 Tournament
Saturday, 6/27/09 - South Oldham 24, Nelson County 3 -
The SOLL 9U All-Stars got off to a great start in our first game of the All-Star Season. Ike Whalen wasted no time in starting South's offensive explosion by sending the first pitch of the game deep to the gap in right center field. From that point on it was all South in this game. South put up 24 runs on 16 hits while committing only 1 error in 4 innings of play to defeat Nelson County 24-3. Whalen went 4 for 5, Patton went 2 for 4, Masterman went 3 for 5, Finneseth went 1 for 1, Marksbury went 2 for 3, Sadlo went 1 for 3, Lightfoot went 1 for 2, Roy went 1 for 2, Beard went 0 for 1 with 3 walks, Gazak went 1 for 2 (really 2 for 2 with a base running oops :) ) Players who had extra base hits were: Ike Whalen (2B), Matthew Roy (2B), Chase Patton (3B) South's starting pitcher, Chase Patton, grinded his way to victory by limiting Nelson County to 3 runs on 3 hits while striking out 6 batters in 3 innings of work. Henry Sadlo relieved Patton to pitch the final inning of the game. Henry only needed 11 pitches to retire the side 3 up 3 down to end the ball game.
Sunday, 6/28/09 - South Oldham 7, St. Matthews National 6 -
Todays matchup against St. Matthews National was an exciting one. South's bats started hot again but we were only able to plate one run in the bottom of the first, taking a quick 1-0 lead. St. Matthews National answered really quick by putting 5 runs on the board in the top of the 2nd. They also retired South 3 up 3 down in the bottom half of the inning taking a 5-1 lead into the 3rd. Did that spell doom for this team? Not a chance. We hung in the game by chipping away at the lead and playing solid defense in the field. Starting pitcher, Cameron Masterman, kept the South in the game by not allowing another run to cross in the top half of the 3rd.
In the bottom half of the 3rd South loaded the bases and Henry Sadlo entered the game and cleared the bases by crushing a sharp ground ball that the St. Matthews 2nd baseman could not handle. After a few throwing errors, Henry ended up at 2nd base with South down 1 run 5-4.
Henry, for the 2nd day in a row, pitched beautifully in relief of South's starting pitcher. In 3 innings of relief he only threw 28 pitches, throwing 23 strikes and only 5 balls while limiting St. Matthews to only 1 more run the rest of the way.
South entered the bottom of the 6th down 6-5. Matthew Roy led off the bottom of the 6th with a single and Kevin Lambe laid down a perfect bunt for a single. With runners on 1st and 2nd Bryan Gazak worked the St. Matthews new pitcher for a walk. With bases loaded and no outs, Ike Whalen laced a line shot to left field to plate the game tying run. With bases still loaded and nobody out, South's scrappy little 2nd baseman, Chase Patton, stepped to the plate and crushed a walk off double off the right centerfield fence to end the game 7-6 for the South victory.

Tuesday, 6/30/09 - Valley Sports 13, South Oldham 10
South out-hit Valley, 16-9, but VS pulled out the win, anyway. South played a really outstanding offensive game. The "never give up" attitude of this team is unreal. Every time we had a tough inning on defense, when it was our turn at the plate, we came through. We really had some offensive highlights in this game. Cameron was 3 for 3 with two singles, a double, scored 3 times, and stole 2 bases. He is batting .800 in three games. Nicklaus continued to knock the cover off the ball as well. He was 2 for 3 with 5 RBIs, while scoring two runs. Nicklaus is batting .667 for the tournament and is leading the team with 7 RBIs. Trey Marksbury has also turned in some impressive numbers at the plate. He was three for three with three singles, while recording one RBI, and scoring two runs. Trey is also batting .667 for the tourney. Matthew, Chanler, and Ike handled themselves like professionals on the mound, even when their control was not as accurate as usual.
Wednesday, July 1, 2009 - North Oldham 8, South Oldham 1
South's hot bats were silenced by a solid defensive performance by North Oldham. It seemed every time South hit a ball hard it was right at a North player and even when it wasn't right at a North player, they made an excellent play to retire the South hitter. Our hats must go off to North, they simply out played us.
The lone South run was knocked in by who else, Nicklaus Finneseth! South was actually limited to only 4 hits. One by Chase Patton, Cameron Masterman, Nicklaus Finneseth, and Chanler Lightfoot.
South's pitchers threw a game that was normally good enough to win the ball game for the big hitting South ball club. Ike Whalen started and pitched two complete innings, limiting North to 3 runs, only two of which were earned. The Angels regular season dynamic duo relieved Whalen the rest of the game. Cameron Masterman and Henry Sadlo finished the last 4 innings for South.

South will try to right the ship by playing it's final pool play game Friday night against a tough St. Matthews American ball club.
Friday, 7/3/09 -