9-10 Year Old Local All-Stars
"Green Team"
Head Coach: Mike Montgomery 836-0311
Assistant Coaches: Jeff Dean, Brian Huston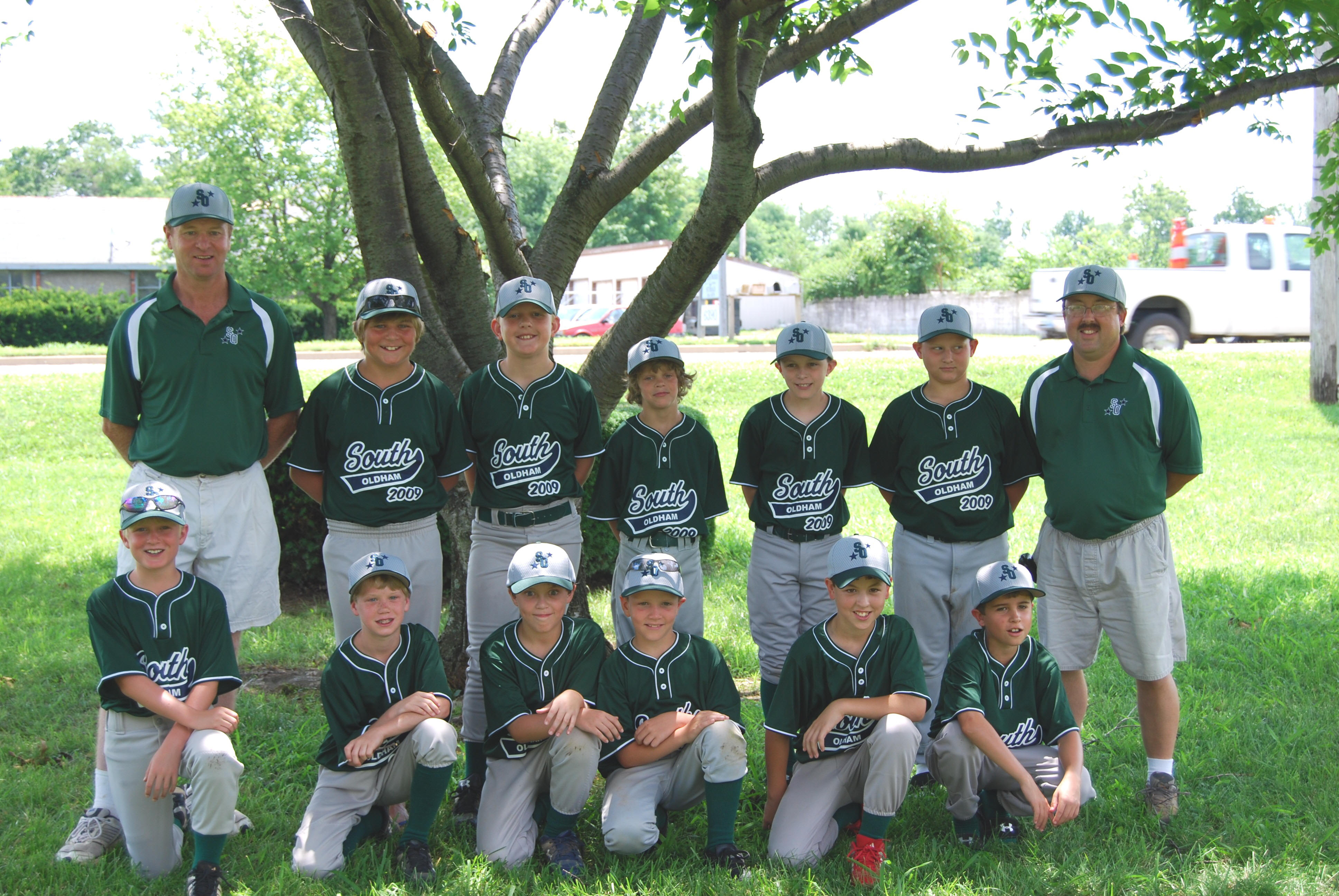 2009 9-10 Local "Green Team" Front Row: Grayson Warfield, Evan Grady, Bo Schweitzer, Luke Reinhart, Shaun Montgomery, Zach Whiteman. Back Row: Coach Jeff Dean, Presley Dean, Jacob Vance, Evan Reinert, Alex Betson, Josh Karlen, Head Coach Mike Montgomery
District 2 Tournament - POOL PLAY at Peggy Baker Park - South Oldham "Green", South Oldham "Gray", North Oldham, Valley Sports, St. Matthews
Saturday, 6/27/09 2 pm South Oldham "Gray" 3, South Oldham "Green" 2 - The Green and the Gray battled to a near draw as five pitchers for the two teams combined to strike out 17 batters, while giving up 11 combined hits and only six walks over 6 innings. Seth Bacon (Gray) befuddled the Green batters over the first three innings, striking out four and allowing just three baserunners during that period. The Gray squad, meanwhile, was struggling to score against Green starter Zach Whiteman and reliever Evan Reinert, but managed two runs in the second on back-to-back-to-back hits by Cameron Covany, Jack Karem, and Sean Stargel. They added a third run in the third to take a 3-0 lead. But Reinert and Shaun Montgomery - the Green's third pitcher - combined for a shutout the rest of the way, and the Green team battled back with two in the fourth. Zach Whiteman walked and later scored on a passed ball. Josh Karlen had the game's only extra base hit, a double, and also later scored on a passed ball. But with no outs and Nathan Huston on third, Seth Bacon battled back by striking out the next three batters to end the threat, and the Green team went down 1-2-3 in both the fifth and sixth innings. Seth Bacon earned the win for the Gray squad, and Trevor Gurr got the save, pitching 1 2/3 scoreless innings to finish the game.
Sunday, 6/28/09 South Oldham 24, Valley Sports 6 (4 innings) - The Green team rebounded nicely after the heartbreaking loss to the SOLL Gray team, rapping out 24 hits in a four-inning victory over Valley Sports. South also had six walks, but only struck out three times. South settled the affair early, sending 17 batters to the plate in the top of the first inning and taking an 11-0 lead before Valley came to bat for the first time. All twelve South players had at least one hit and scored at least once, and six players - Presley Dean (home run), Josh Karlen (triple), Zach Whiteman (double), Evan Grady (double), Alex Betson (double), and Jacob Vance (double) had extra base hits. Six players had multiple hits: Josh Karlen was an amazing five for five at the plate, Evan Reinert had four hits in five at-bats, Zach Whiteman was 3 for 4, Bo Schweitzer was 2 for 3, Grayson Warfield was 2 for 2, and Presley Dean was 2 for 2. Valley pulled to within 12-4 after two innings, but South had another big inning in the third, scoring nine times, to ensure there would be no comeback. On the mound, Shaun Montgomery got the start and the win, and Luke Reinhart and Grayson Warfield pitched in relief. The three combined to scatter eight hits while walking just two and striking out five. Defensively, Evan Reinert had four assists from his shortstop position and Presley Dean had four putouts.
Monday, 6/29/09 6:30 pm vs. St. Matthews (field 1) -
Wednesday, 7/1/09 6:30 pm vs. North Oldham (field 1) -
District 2 Single-Elimination Tournament at Peggy Baker Park
Friday, 7/3/09 Semi-finals (top 4 teams advance)
Saturday, 7/4/09 Championship