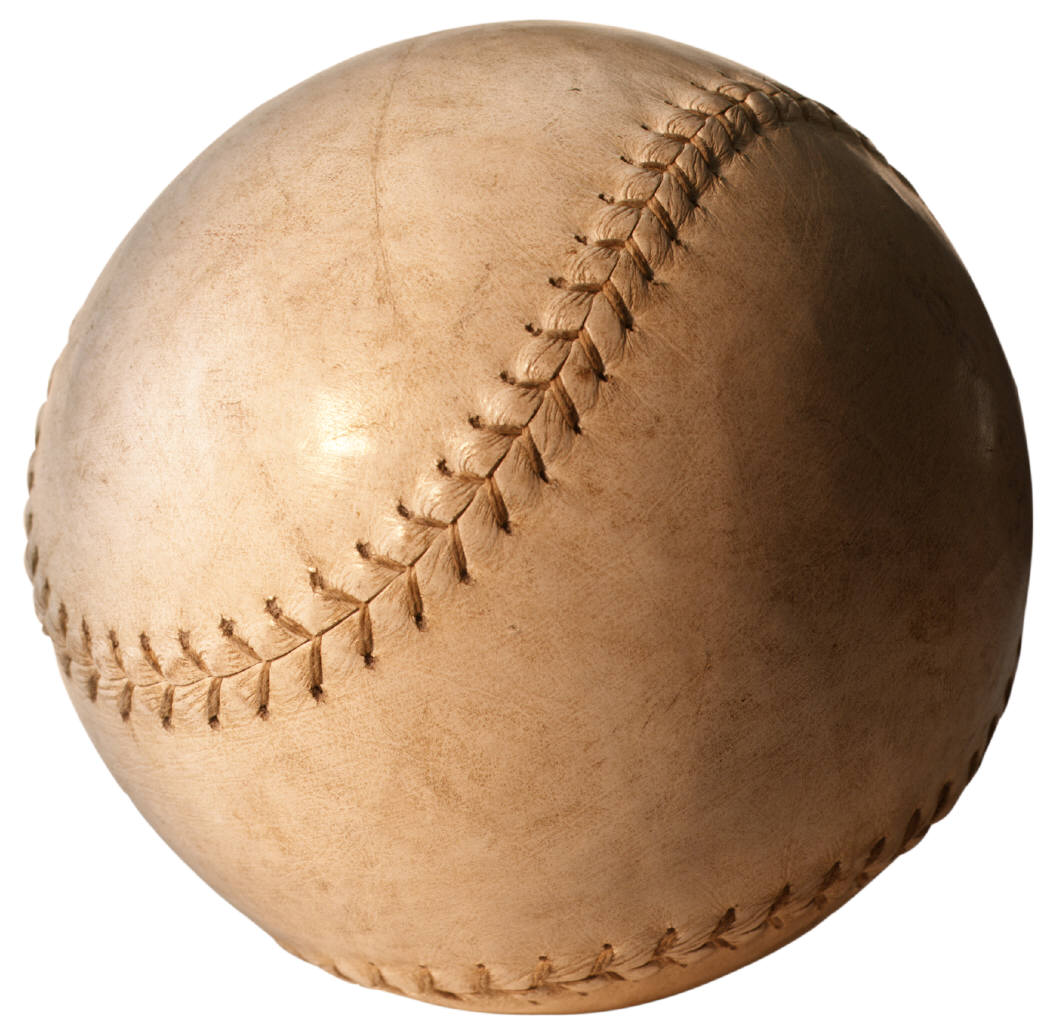 "The Big Green Machine" 8 Year Old "B" Team - coached by Mike Montgomery HOME
8 Year old Machine Pitch Little League District 2 "Local" Tournament:
6/23/07 SOLL "B" 14, Camp Taylor 11 The Big Green Machine broke open a close game with an 8-run second inning and weathered a late Camp Taylor rally to win. Devin Bishop stroked three home runs in the game and drove in five RBIs. Spencer Haywood and Cameron Mount combined for a double play and Alex Betson threw out a would-be base stealer. In addition to Devin, Stephen Mitchell, Kamden Price, Cameron Coveny (a double and a triple), and Shaun Montgomery were perfect at the plate.
6/25/07 North Oldham 19, SOLL 6 The Big Green Machine took a slight detour on Monday, spotting NOLL a 9-0 lead in the first inning. Although South played mostly even the rest of the way, the initial deficit was too big to overcome, and the Big Green fell in four innings. Zach Wheeler went 2 for 2 for SOLL; Devin Bishop hit a double (his fourth extra base hit in two games), and Spencer Haywood hit a triple to lead the South bats. Defensively, Spencer had four assists in the contest, Devin caught two deep line drives, and Stephen Mitchell had a big game at second base, with three putouts, including a "SportsCenter" diving catch for the third out in the fourth inning.
6/26/07 SOLL "B" 30, Grant County 14 The Big Green Machine jumped to an early 14-2 lead, watched Grant County whittle the margin to just three at 17-14, then scored the game's final thirteen runs to win going away, 30-14. SOLL blasted 42 hits in 55 at-bats (.764), including 13 extra base hits. Spencer Haywood was 5 for 5 at the plate...Devin Bishop also went five for five with three triples, a double, and a single...Kamden Price was 4 for 4 with two triples...Cameron Coveny blasted a two-run home run...Alex Betson was four for four with two doubles and scored four runs...David Clifford was also perfect at the plate, going four-for-four and driving in a whopping FIVE RBIs. SOLL had just one strikeout in the game as every SOLL batter had at least two hits. Shaun Montgomery had nine defensive putouts at first base and one assist. The game was actually stopped due to lightning with SOLL cleanup hitter Zach Wheeler at the plate and two South runners on base...
6/27/07 Nelson County "A" 27, SOLL "B" 5 After the game was delayed nearly an hour by lightning, South Oldham's 8B team finally threw out the first pitch against Nelson County "A" on a kid-pitch field just before 9 pm. South trailed just 4-3 after one inning, and the game looked to be a close one; but the Nelson bats starting finding the holes in the outfield, and the SOLL bats failed to duplicate their success from the night before. Nelson County, meanwhile, used every foot of the longer distance to the fence, blasting 28 hits, including a whopping sixteen hits that went deep into the outfield. Spencer Haywood and Stephen Mitchell led SOLL in batting, both going two for two at the plate. Spencer scored two of the team's five runs.
6/29/07 Valley Sports "A" 20, SOLL "B" 4 South Oldham jumped out to a 2-0 lead, but couldn't hold it as numerous errors helped Valley Sports score 20 unanswered runs. Offensively, SOLL had an uncharacteristically high number of strikeouts, and only 9 hits in 18 at-bats in the four inning game. Zach Wheeler blasted a fourth-inning solo home run, and Stephen Mitchell turned a left-field single into a home run with some nifty baserunning. Zach also added a double in the game. Both Stephen and Zach were two-for-two in the contest...Alex Betson, Kyle Kaminski, and Shaun Montgomery each were one-for-one at the plate.
SOLL 8B finishes 2-3 in pool play.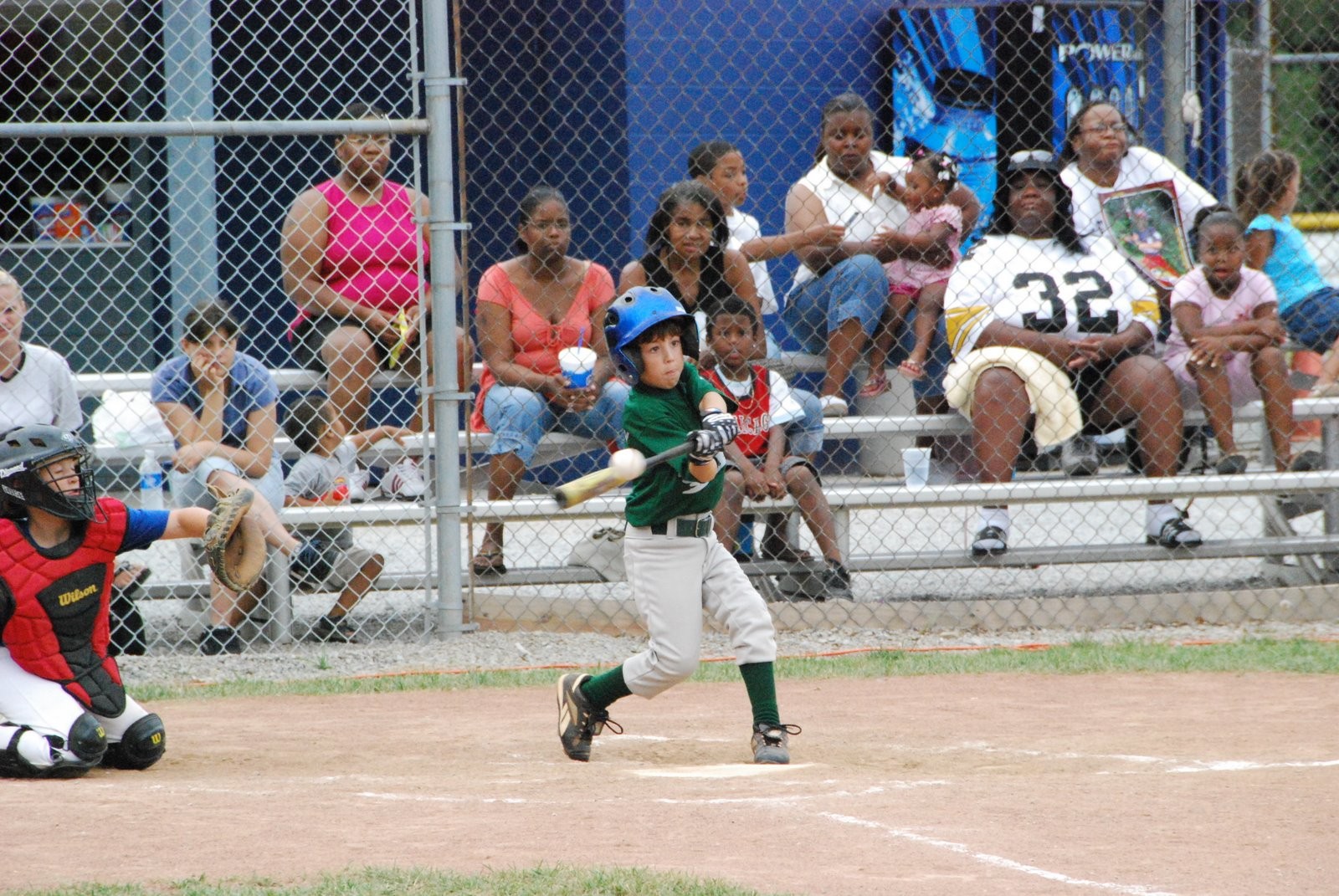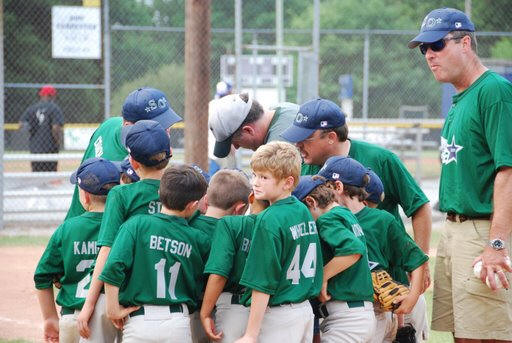 Shaun connects against Camp Taylor Coach Mike talks with a happy huddle after the 14-11 win over Camp Taylor.
Photos courtesy of Mark Kaminski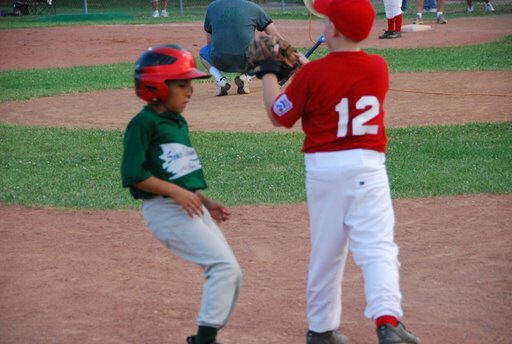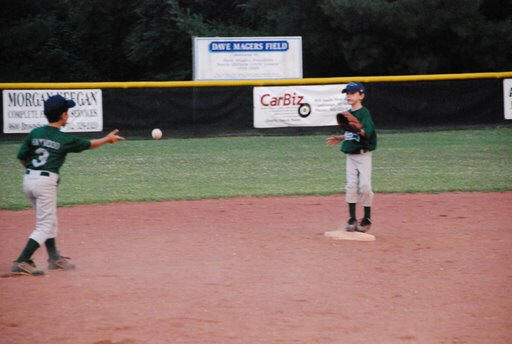 Devin's safe at third! Spencer tosses to Cameron at second for the force out against Grant.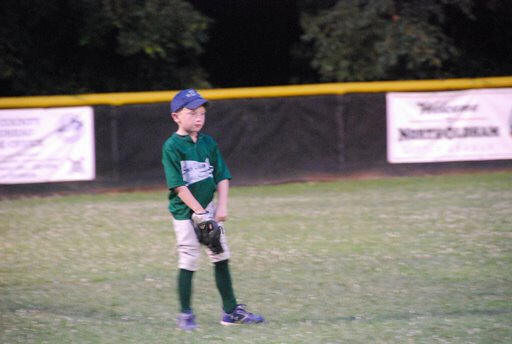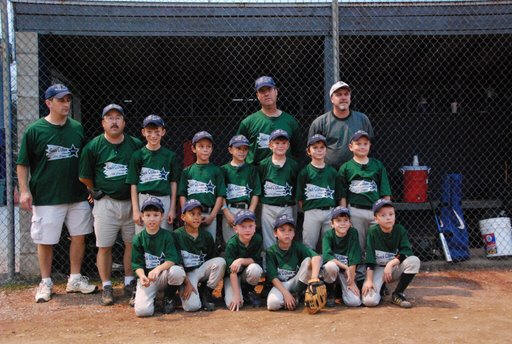 "Action" Jackson patrols left field. Team Picture after District 2 tourney: Front row: Shaun, Devin, Jackson,
David, Cameron M., Kamden. Row 2: Mitchell, Spencer, Alex, Zach, Stephen, Kyle
Photos courtesy of Mark Kaminski Coaches: Mike Betson, Mike Montgomery, Bob Clifford, Rick Mount (absent: Cameron C)
New Albany Youth Baseball Machine Pitch Tournament - at New Albany Youth Baseball, Mt. Tabor Road (just off Grant Line Rd.), New Albany
Fri 7/6/07 Silver Creek 20, SOLL Big Green Machine 17 - The Big Green Machine opened Pool B play with a loss. After spotting Silver Creek a 7-0 lead after one ugly first inning, South rallied with a 7-run second to tie the game at 7 after two complete and set up a nick-and-tuck battle the rest of the way. Both teams hit the ball extremely well, with SOLL blasting 31 hits in 39 at-bats (.795) and SC getting 30 base hits. Eight South Oldham players - Stephen Mitchell, Kamden Price, Devin Bishop, Zach Wheeler, Cameron Coveny, Nick Schultz, Shaun Montgomery, and Alex Betson - were perfect at the plate. Stephen (double), Kamden (double), Braydon Sisson (triple), Aaron Gohlinghorst (double), Cameron Coveny (home run), and Alex Betson (double) had extra-base hits. Alex Betson drove in four runs for the Big Green Machine. Defensively, Mitchell Stone came on at first base, recording six putouts in the contest. Braydon Sisson had three assists and a putout at shortstop.
Sat 7/7/07 Highlander Athletics 9, SOLL Big Green Machine 8 (Pool B play) Less than 12 hours after leaving New Albany the night before, the Big Green Machine was back for a second Pool B game against the Highlander Athletics, an AAU team. The South bats were definitely slowed from lack of sleep, and the defense spotted the A's a 4-0 lead after one inning. But SOLL kept chipping away at the lead, and ultimately took an 8-7 lead into the bottom of the sixth and final inning before watching the A's win it with two long hits, driving home two runs for the win. Braydon Sisson was 2 for 3 at the plate, with a homer and a double and two RBIs; Cameron Coveny was also two for three at the plate with a triple and two RBIs. Undoubtedly due to fatigue, SOLL had three strikeouts - triple their average - and grounded into eight easy putouts to the pitcher and second baseman. The loss left SOLL in third place in Pool B play and sent them into the single-elimination tournament against the #2 Seed from Pool A.
Sat 7/7/07 Jeffersonville George Rogers Clark 12, SOLL Big Green Machine 8 (single elimination tournament game) South jumped out to early leads of 4-2 after one inning, 5-2 after two innings, and was still leading, 6-3, heading into the bottom of the fourth when GRC blew past with a 7 run inning. Easily the team's best defensive performance to date - Braydon Sisson at shortstop, Aaron Gohlinghorst at 2B, Shaun Montgomery at 1B, Kamden Price at pitcher, and Zach Wheeler at 3B combined for out after out as The Big Green Machine infield began to "click" as a unit. ...in addition, Alex Betson caught a line drive in right center. But GRC was playing their only game of the day, and had had much more rest the night before, and in the end, the extra rest paid off. SOLL was playing its third game in 18 hours in the early afternoon heat... After GRC pulled ahead 10-6 after their big fourth inning rally, both teams tallied two in the fifth, before GRC cemented the win by holding SOLL scoreless in the top of the sixth. Cameron Coveny led SOLL with a three-for-three performance at the plate; Brayden Sisson, Kamden Price, Zach Wheeler, Aaron Gohlinghorst, Shaun Montgomery, Alex Betson, and Jackson Geer were all 2 for 3. Kamden and Zach both blasted triples for SOLL; Brayden had a double.
Germantown 8U Invitational - at Germantown Cal Ripken, Louisville, KY (next to St. X High School)
Wed 7/11/07 Valley Sports 10, SOLL Big Green Machine 0 (4 innings) On Monday, the coaching staff learned that the machine in the Germantown machine pitch tournament would be set at 42 mph - two mph faster than the SOLL kids saw during the regular season or in either of their post-season tournaments to date. Valley Sports was able to practice using the faster speed on Tuesday...but SOLL was not due to torrential rains that hit Crestwood. The result was somewhat predictable: SOLL struggled to connect against the machine all evening, striking out on 7 of 15 at-bats - the most strikeouts for the team all post-season. The team managed just three hits all evening - a triple by Devin Bishop in the first, a single by Alex Betson in the third, and a double by Mitchell Stone in the fourth. Meanwhile, VS had only two strikeouts in 25 at-bats. Defensively, however, the Big Green Machine was a different team from the one scorched by Valley Sports, 20-4, in District play. South spotted VS a 4-0 lead in the first, but quickly settled down and gave up the next six runs very grudgingly over the next three innings. Brayden Sisson had three putouts at shortstop, Devin - playing at third base for the first time this post-season - fielded a bunt attempt by VS cleanly and threw to first for the out; Shaun had two putouts at first, including a hustling catch of a foul ball; Jackson Geer (pitcher) threw to Mitchell Stone (1B) to retire another batter, and Nik Schultz (RCF) threw to Aaron Gohlinghorst (2B) to force a runner in the third inning.
Sat 7/14/07 Louisville Force 14, SOLL Big Green Machine 3 The Big Green Machine, down 3-0 after one inning, watched 15 Force batters parade to the plate in a disastrous second inning, as the AAU team from Middletown plated 11 second-inning runs. South was able to avoid the 15-run mercy rule in the third through solid defense...after giving up a leadoff double, Jackson Geer (pitcher) linked up with Mitchell Stone at first for one out, but the runner advanced to third. After a strikeout, Jackson linked up with Mitchell again to end the inning. Meanwhile, SOLL continued to struggle against the machine, which was throwing at 42 mph. Only 11 SOLL batters went to the plate in the first three innings, and South managed just three hits in that span (Devin Bishop single, Kamden Price single, and Jackson Geer single) The Big Green Machine finally got the offense untracked and rallied in the top of the fourth, needing five runs to avoid the 10-run fourth inning mercy rule, but came up just short. Stephen Mitchell singled and stole second, then third. Aaron Gohlinghorst tripled him home, then scored on a single by Devin Bishop. Devin stole second, then third, and then he came home on a single by Brayden Sisson. The Big Green continued to aggressively run the bases - the Big Green successfully stole a base 8 times on 9 attempts - as Brayden swiped second and third, but the next two batters were retired to end the game. Devin Bishop led the team offensively, going two-for-two, with three stolen bases and a run scored.